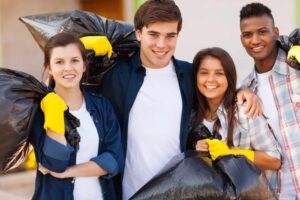 America's young people are its most precious resource. This is why, for many years, Exchange has sponsored an impressive selection of activities designed to benefit and encourage our nation's youth. Many of these richly rewarding programs are among the most popular and well-supported of all Exchange Club endeavors.
There is a variety of youth-related projects in which your club can participate. Of course, your participation is not limited to the programs specified in this book. After performing your community needs assessment, a tool which is available from your National Headquarters, you will determine which programs are most suitable for your area.
Recognition of a well-deserving youth could have an impact on his or her entire future. One National Youth of the Year Award recipient put it this way: As a young man from an almost unknown town, the award proved to me that dreams can be reached. This award helped me to gain the necessary self-confidence to cope with the many hurdles associated with the acquisition of an education. It taught me that with hard work and the support of others, the sky was the limit. I knew that my career aspirations could become a reality.
Our club will make a difference when it conducts Exchange's youth programs in our community.
Our Club has many printed materials to assist clubs in their efforts to better their communities through our Programs of Service.  Please Contact Us for more information.